Featured Entries
Know a good UD website or resource?
The Accessible Virtual Community
Shopping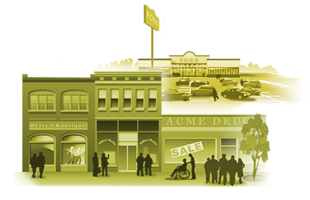 What else can be done to improve the accessibility of shopping experiences, be it retail, wholesale, large or small scale, products, or services? One example is how some grocery stores now offer electric carts for people with mobility limitations to use.To search for more related information, you can go to our Search Page.

This website has updated ADA guidelines, regulations, and rights for people with service animals.

This website contains information on the center for Inclusive Design and Environmental Access (IDEA). The IDEA Center at Buffalo, NY is dedicated to improving the design of environments and products by making them more usable, safer, and appealing to people with a wide range of abilities throughout their life spans. This includes project information, community dissemination activities, publications, sample pictures of universally designed homes, and links.
IDEA at University of Buffalo NY

This PDF document from CATEA, Center for Assistive Technology & Environmental Access, is an illustrated guide that provides information that can be used to design, develop, test, refine, and evaluate retail grocery checkstands. This guide is meant to maximize independence and participation of people with disabilities in the workplace and includes diagrams with measurements for work spaces.
Center for Assistive Technology & Environmental Access

A tip sheet for communicating with individuals who are deaf and hard-of-hearing.

A free pdf from the Center for Universal Design, North Carolina State University, includes a checklist to help individuals think about their own needs and those of potential users when selecting products. Questions for consideration are based on the 7 Principles of Universal Design.
The Center for Universal Design, North Carolina State University