Illustration Representing a religious institutio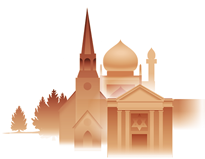 Brief Description:
Illustration representing Worship & Religion section of virtual community.
Essential Description:
A temple, church and a mosque representing various types of buildings of worship typically found in a community. This illustration provides a quick visual reference to the worship and religion section of the website.
Detailed Description:
The burnt golden colored temple, church and mosque appear in a park like setting. The temple appears in the foreground, followed by the church and the mosque located behind. Trees are located to the left of these three buildings creating the park-like setting.