Illustration of Schools & Education Buildings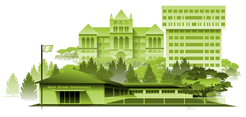 Brief Description:
Illustration of school buildings represents Education section of the Virtual Community.
Essential Description:
Three buildings representing various levels of education found in a community. This illustration provides a quick visual reference to the schools and education section of the website.
Detailed Description:
Shades of bright green color the elementary, high school and college buildings set amongst numerous trees. The elementary school is located in the foreground. This school is a one story building with a flag pole to the left and a playground to the right. Trees divide this building from the two larger buildings in the background. The background consists of the high school on the left which is a building with three entry ways set forward by columns and a large 11 story tall college building.