Illustration of Restaurants & Dining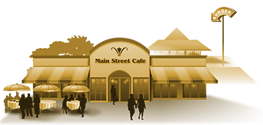 Brief Description:
Illustration represents restaurants and dining portion of the virtual community.
Essential Description:
A busy café or restaurant with people seated outdoors represents the wide variety of dining options available. This illustration provides a quick visual reference to the restaurants and dining portion of the website.
Detailed Description:
Shades of gold set the scene of the busy Main Street Café located in front of trees and houses. The building has a rounded top with large stripped awnings on both sides. Big windows line the front of the building. Three tables, shaded by umbrellas, sit out front the left side of the café. People are gathered around the tables as well as entering and exiting the building.