Illustration Representing Homes and Lodging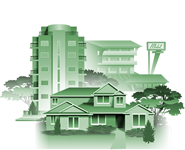 Brief Description:
Illustration representing Homes & Lodging section of virtual community.
Essential Description:
Three types of buildings that represent the variety of housing and lodging available in the community. This illustration provides a quick visual reference to the homes and lodging section of the website.
Detailed Description:
A two-story house, in many shades of green, appears in the foreground of this image. The house has a peaked roof and is surrounded by trees and bushes. It also has a driveway leading up to the front door. In the background is a tall circular apartment building with balconies extending off each level. A hotel building with a sign standing tall from the ground appears on the right side of the image.