Government and Utilities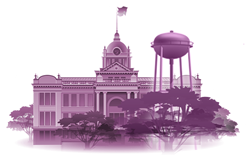 Brief Description:
Illustration represents government and utilities section of virtual community.
Essential Description:
An illustration of a large columned building and a water tower provides a quick visual reference to the "Government and Utilities" section of the virtual community.
Detailed Description:
The illustration, done in shades of purple, shows a large colonial style government building appearing in-between two sets trees. The building has two sets of tall pillars in front of the main entrance. A tall rotunda or tower is ain the middle of the building with a flag waving at the top. To the right, in front of the government building, is a municipal water tower as tall as the top of the building.