Illustration Representing Factory and Industry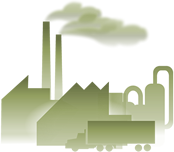 Brief Description:
Illustration representing the Factory and Industry section of virtual community.
Essential Description:
Employment, union involvement, hygiene, management approaches, and contracts are represented by factory buildings, smoke towers and a semi truck. This illustration provides a quick visual reference to the factory and industry section of this virtual community.
Detailed Description:
A dark grey semi truck appears in front of two large factory buildings with jagged rooftops. Oval shaped ventilation ducts appear on the right side of the image. Two smoke towers stand tall over the factory buildings in the background of the image, with big clouds of smoke hovering above.